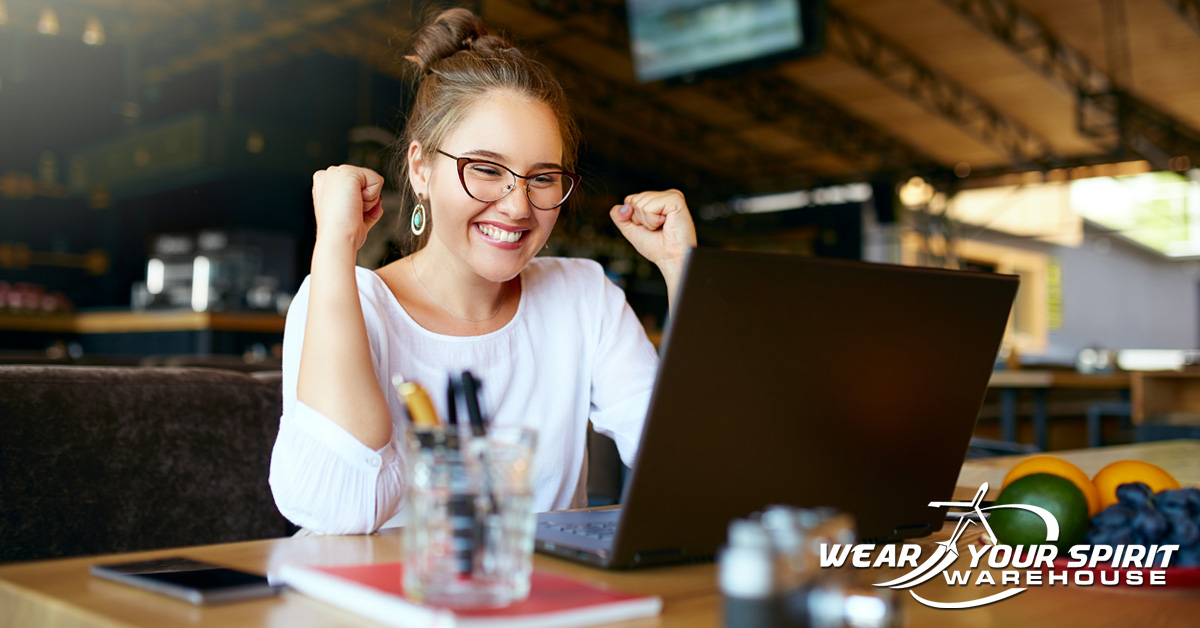 Our customizable online store feature makes raising money for your nonprofit so simple. Let us help you design and use your eCommerce store to add extra money to your organization's bottom line.
Your team loves purchasing branded merchandise to show their support for your organization and their pride in affiliation. Even better, those purchasers become walking billboards for your organization. Everywhere they go – on t-shirts, hoodies, coffee mugs, hats, and more – your logo and message go with them on your behalf.
How cool is that? Free marketing can't be beat!
It wasn't that long ago that running a fundraiser required a storage space to hold lots of merchandise. You also had to deal with multiple manufacturers and manage payments/finances. But, no more.
Yes, you can still do it the "old school" way, but we offer you something more effortless with a broader reach.
Let's generate funds and publicity for your organization starting today.
Tips for Using ECommerce Stores
Tell a Compelling Story
As humans, stories resonate with our emotions more than facts and figures. To gain those purchases, your eCommerce site should present a compelling story.
What story will move your supporters to donate or make a purchase? Maybe it is a school trip. Perhaps you are helping homeless animals. You might be raising funds to help in a disaster.
Whatever your cause, you need to connect with people's emotions.
Think of promotions that have grabbed your attention.
Did they use graphics, images, or short videos? These add life to your story more than just text. They show the personality and values of your nonprofit.
You can add helpful content through a blog, updates, resources, and guides to share the good work your organization accomplishes. You don't want to come across as pushy or needy, but you want to keep your audience interested and inspired.
Use Multiple Channels
Once you have decided what items you are offering, we will work with you to highlight those items in your eCommerce store.
Think about shopping on Amazon or eBay. What grabs your attention about different articles for sale? Is it the value behind the product? What does the product represent? How does the product help your organization? You'll want to mimic these features in your store.
You can also sign up for sites like AmazonSmile to earn donations from your supporters while they shop. It's easy and hassle-free, and those donations can really add up.
Promote, promote, promote. Tell everyone about your fundraiser. Include notices/links on your website, your newsletter, your menu board in front of your organization, and your street sign. The more you promote, the greater your support!
Your WYSW online store is set up with you in mind. You determine what is available while building brand equity for your nonprofit.
Digital PR
To generate traffic to your eCommerce store, you need some strong SEO. We can help you craft compelling descriptions of products along with your story above.
In addition, use social media to promote your fundraiser. Keep the fundraiser in your followers' minds with regular notices and updates. Use all forms of SM – Facebook, Instagram, TikTok, Twitter, LinkedIn, YouTube – wherever your followers hang out. Be sure to include shareable links to take advantage of the ripple effect (friends sharing with family and friends).
Just think, yours' could be the next viral video that gets picked up around the state or even the world. How great would that be for your fundraising efforts?
Oh, and don't forget regional media like news media organizations, related community partners, and local/national associations.
Whether your nonprofit organization is big or small, ensure that all your social media channels drive people to your eCommerce store (and vice versa).
Visuals
You've heard the saying, "A picture is worth a thousand words." Its wisdom has been demonstrated over and over throughout the years.
So, while written content is immensely important, visuals will emphasize the impact of your words.
Visuals can be photos, videos, infographics, charts, quotes, etc.
For nonprofit organizations, it is all about raising awareness. So, make your content share-worthy by making it digestible and dynamic.
The key is to help people feel invested and involved. Engage with them as much as possible.
Nonprofit organizations operate in a competitive corporate world. Executing your mission and keeping the organization financially viable takes a lot of work.
Let our talented team of professionals help you build your eCommerce store today to start raising money for your nonprofit.